Desire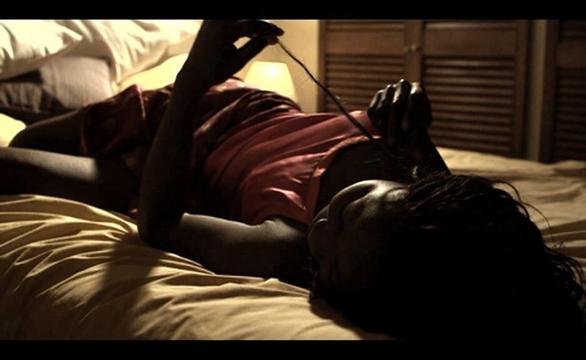 Dir/scr: Gareth Jones. UK. 2009. 95mins
Housebound British sexual drama Desire – which has done the festival circuit for a while now and gets a belated and brief theatrical release in the UK – is a nicely staged blend of artfully shot sexuality and repressed drama, distinctive through its elegant widescreen cinematography and engagingly restrained central performance by Tella Kpomahou as the woman who drives a wedge into dysfunctional London family.
There is a niggling sense of heightened melodrama as carnal desires are rushed into the plot fairly swiftly, but the sex is artfully shot and there are twists to come. The fact that the story is set purely within a relatively well-to-do London house means that space is used thoughtfully and the claustrophobia is a tool as well as plot device.
Agoraphobic writer Ralph (Oscar Pearce) sits at the top of his house trying to write a screenplay, while his soap opera star wife Phoebe (Daisy Smith) is busy at work. He finds a student au pair from Paris named Nene (Kpomahou) to help look after their two children, and find her the missing character he needs, both in terms of life and in his script.
Before you can stay 'school run' both Phoebe and Ralph are taking turns at seducing Nene, each getting upset and obsessed in their different ways, with Phoebe eventually resorting to bringing back a hunky actor from her show (Adam Slynn) for more sexual adventuring. During the proceedings we get a voice-over from Ralph (who mentions 'desire' quite a lot) while he frets about his script…and quite how the young kids managed to get any sleep with all the noisy rampant sex going on at night-time is something of a mystery.
As the object of most of the sexual attention Tella Kpomahou has the hardest job – she has to be muse, lover, au pair and also enigmatically aloof most of the time. Things get tactile fairly quickly into the film (in a very un-British fashion) with Ralph and Phoebe quick to stroke (and, almost patronisingly, pet) Nene as soon as she arrives at their house.
Impressively shot by Alex Ryle – using a Red One camera – Desire sometimes gets too caught up with its sense of psychodrama and the voiceover/screenplay device weighs overly heavily at times. The cramped location adds much the mood and atmosphere while the film is smartly made with strong performances from Tella Kpomahou and Daisy Smith as two very different women.
Production company/sales: Scenario Films, www.scenariofilms.com
Producer: Fiona Howe
Cinematography: Alex Ryle
Editors: Tony Sebastian Ukpo, Richard Mitchell
Music: Oumou Sangare, Fiona Howe
Website: www.desirethefilm.com
Main cast: Oscar Pearce, Tella Kpomahou, Daisy Smith, Adam Slynn, Raphael Jones, Pandora Jones